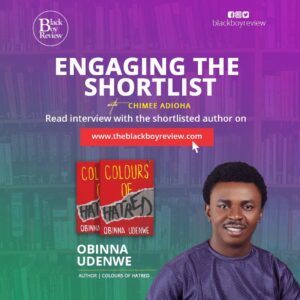 Obinna Udenwe is a novelist and short story writer. The author of the conspiracy crime thriller, Satans & Shaitans, and most recently the novel, Colours of Hatred – shortlisted for the NLNG Nigeria Prize for Literature 2021. Obinna is also the author of the novella, Holy Sex and the chapbook, The Brief Story of the New Love Software. He is the winner of the Prairie Schooner-Glenna Luschei Prize 2020 and The Short Story is Dead Prize 2016. His works have appeared in The Temz Review, Afreada, Munyori Literary Journal, Fiction365, Tribe Magazine, Kalahari Review, The Shallow Tales Review and More. He is the co-founder of The Village Square Journal and since 2015, the editor of Ebedi Review – an in-house magazine of the Ebedi International Writers Residency. He lives in Abakaliki, Nigeria where he runs his own farm and civil engineering firm.
This conversation with Chimee Adioha came after COLOURS OF HATRED was shortlisted for the NLNG Nigeria Prize for Literature 2021. We were excited to hear from the shortlisted authors- talk about their writing life, their experiences, their thoughts- and everything we might never have heard them talk about.
My name is Chimee, and I am so excited to be talking to you today. And congratulations on COLOURS OF HATRED being shortlisted for the biggest literature prize in Africa. Would you share the level of research you did that brought answers that pushed you to write COLOURS OF HATRED. What pushed you? How long was the pre-writing process?
Obinna: Thanks Chimee for this interview. I did not do any research at first. I had the urge to tell a story about a young woman who would have the sort of experiences Leona had in a world that is filled with hate and manipulation and I wrote the story. Then I needed a strong backdrop that would push this idea of hate. It was after the first draft, while watching the television that I saw a detailed report on the Dafur Crisis. I saw women carrying babies while trekking long distances as war was ravaging their villages, I pondered the effect of war and how women are mostly the worst hit, how they are the ones who get raped, who have to be on the run carrying babies and their belongings, who must find a place to settle and search for food for the children and the husbands etc., etc so I decided to situate Leona's story against the backdrop of war and political turmoil and how it affects a people and ruins them. So the first draft took quite a short period of time, I am not sure now, but it may have been less than three months. You see, I write very passionately and fast too, especially all my first drafts. I don't do character sketches and attributes. I just sit down in front of my computer and write the story straight away, typing away, telling the story to myself, following the story till it tells me to stop. After the first draft, I go back to do a slow reading, at this point I use a pen and paper to list the characters I had created, change their names, if necessary and build on their attributes and back stories – this I do on a large piece of paper, say an A1 paper or a small writing pad (for Satans & Shaitans, a writing pad and A1 paper for Colours of Hatred). Then I note every part of the story that needs research and work on the research. For Colours of Hatred, the research took a long time, especially the fine-tuning, but not as long as it took me to work on Satans & Shaitans.
The most difficult but rewarding part for Colours of Hatred was that I was admitted into Ebedi Writers Residency in 2014, five years after I started the story, and while there, I deleted over 40, 000 words from it and started afresh.
What writing challenges did you face writing COLOURS OF HATRED?
Obinna: Trying to make the tale the story of Leona and not that of war was one of my greatest challenges. There are novels which are about the character or characters and also about war the characters finds themselves caught up in. I did not want to write a story that people would call a historical novel or a war novel like Beasts of No Nation or Half of a Yellow Sun, which is a great Biafran Story or Ekwensi's Survive the Peace etc., etc. I wanted to tell a story about Leona and her family against the backdrop of war, like Satans & Shaitans is set against the backdrop of terrorist tension ravaging Nigeria. And I think I achieved that, because when people read the novel they do not talk about the Sudanese war as much as they talk about Leona and the travails of the Egbufor family.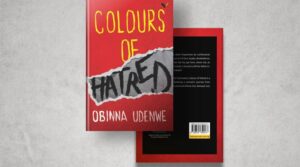 Who did you share your book idea with? Do you do that? Who read your first draft?
Obinna: I did not share the idea of the story with anyone at the time. You see, I was new in Enugu, living lonely in a flat off campus and started the story to kill time and keep busy. A few of my friends in the Engineering school in Enugu then read the chapters as I progressed. They read and gave feedback. Then Nwamaka read it and when I was done, her sister, Nnedi read the entire story and sent me a note on the things she thought did not work for her.
Were there any readings that inspired you prior to writing COLORS OF HATRED?
No book in particular inspired me to write Colours of Hatred. I do not go searching for books that are connected to the story I want to tell first before writing the story. If I have a story idea and it intrigues me enough, I sit and start writing it. But in general, after writing the first draft, when I go back to rewrite I notice that there are influences of authors I have read and admire greatly and for Colours of Hatred it was Maria Corelli and Leila Abouleila.
Would you mind sharing with us the way you felt or your experiences getting that your book was longlisted and now shortlisted for the biggest literature prize in Africa?
Obinna: The day it was longlisted, I was driving to Asaba where I am working on an engineering project when I got a call from a friend to say that I had been nominated. I had to park to calm down. I was excited and anxious. I was excited because I had forgotten about the prize since it was submitted in 2020 and Covid19 happened and sort of turned everything upside down. So it shocked me when she said the book was nominated. Then I was anxious because at that time I had read The Son of the House and The Girl with the Louding Voice and My Church, Your Shrine. I knew Colours of Hatred was in good but competitive company. The same happened on the day of the shortlist. You see, after the longlist was announced, NLNG and CORA hosted the eleven of us to a book party in Lagos where I bought all the other books and read them. I agreed with the judges. They had made a very strong selection. So one day I was at this antiques shop trying to get some fancy glass cups for wine and liquor when I noticed that my phone had been on silence and I had missed my editor, Amara Chimeka's calls, then my publisher, Azafi called and was screaming on the phone. It surprised me to hear what she was saying because I was looking forward to the announcement sometime in September but she said it had just been announced and we were on the shortlist. When she mentioned the other two books I was happy because I had guessed correctly that they were the strongest on the list. I liked that the judges made a good choice.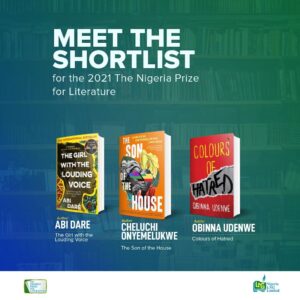 Did you at any time ever expect all these responses that COLOURS OF HATRED is garnering?
Obinna: When we finished working on the book and got external readers from Sudan and Nigeria to access it, their feedback showed me that we had tried to do a good job but you never can tell with novels – they are like children, you birth a child and leave the world to judge her. You may think your child is beautiful but in the eyes of the world, they may see that her legs are crooked, her head oblong and her shoulders like one who'd escaped famine. Then the book was released a month or so before COVID-19 happened and we went into lockdown. There was nothing like a book launch done by the publisher or a tour or readings because of COVID and this affected publicity and sales. After COVID I organized a launch in Abakaliki which was a huge success. But the NLNG Nigeria Prize for Literature has sort of ignited some fire around the book. It is a good thing.
Would you want to have your book adapted into a film? What do you think it might look like? Ever thought of that?
Obinna: I think my stories and books are written in such a way that they create strong imagery that makes the reader think they are seeing a movie when they read. That is why my story 'It Has to do With Emilia' was optioned for film and television last year by Bridget Pickering. I think COLOURS OF HATRED is a good candidate for film and even for a television series. I may not be able to say what it might look like because film producers approach their work differently.
Do you have contemporary authors that you love to read?
Obinna: I enjoy reading Haruki Murakami. It is my dream to get to meet him someday soon. I enjoy the works of Jennifer Nasunbugi – she is very talented, I loved her book Manchester Happened and the way she experimented with the short story form, just what Donald Baltheme did, though Donald cannot be classified as contemporary. I also enjoy the works of Nneka Arimah – she is currently one of the best short story writers in the world, if not the best in Africa. I enjoy reading Chika Unigwe, especially her short stories as well, there is the innocence in her writing and if you have met Chika and listened to her talk, you'd notice the voice in her storytelling – which is awesome. I love to read Alice Munroe and P. D James and Sandra Brown and Leila Abouleila. I like the works of James Patterson but you are asking about contemporary authors so I can put him in a bracket.
What is your writing schedule like?
Obinna: I write in the evening/night. Never in the morning or afternoon. I can start writing by 5pm or 6pm and write till early morning of the next day. Nonstop. But once I go to bed I cannot wake up to write or write in the morning, say by 8am, 10am. No. If I sit down in the morning or afternoon to write, nothing will come out.
What would be your advice to younger writers coming up?
Obinna: Allow writing to come to you naturally, the way storytelling happen to our mothers and uncles in the village, then nurture the craft through constant writing and reading. Don't believe you must pursue a degree or higher degree in creative writing to become a good writer, unless you want to teach literature or be a professional critic, avoid creative writing classes and this thing they call MFA.