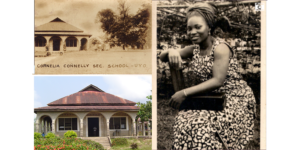 My name is Iquo B. Essien. I am a Nigerian-American filmmaker with a Master's in Fine Arts degree in film from NYU's Tisch School of the Arts.
Back in 2010, I traveled to Nigeria to conduct research for a memoir of my late mother, Elizabeth Essien. I was on leave from film school, trying to figure out what was next for me. I was also still processing the loss eight years after she'd died of cancer. She had always wanted to write her story, but she'd never gotten the chance—so I took it up for her.
I traveled. I returned to knock on doors several times just hoping one of my mother's old friends would be home. I conducted tons of interviews. I shot photos and collected old ones, finding a local business in Uyo to scan hi-resolution copies. I shot video. And every day, I wrote.
In 2013, I finished a memoirette, Elizabeth's Daughter in Words and Pictures.
The memoir examines my mother's departure from Nigeria, her life and death, and my eventual return to remember and write about her, exploring issues of religion, politics, language, and identity. It is a story about a grief-stricken daughter turned bona fide writer—chronicling my journey as I uncover my mother's life as a would-be nun turned wife, while coming-of-age as an artist and young woman.
Today, eight years later, I invite you to join me in reimagining Elizabeth's Daughter as a memoir gallery and residency for African womxn artists.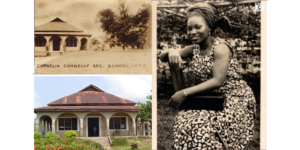 In the years since writing the memoir, I've amassed a content archive of audio recordings, photos, video, archival documents, journals, and writing. It became increasingly clear that the project was so much more than a book. My family's story offers unique insights on the past 100 years of history of Nigerians at home and abroad. And the project helped me become a keeper of potentially lost history. I feel called to bring it to a wider audience while promoting other artists who do similar work.
I plan to transform the Calabar home of my late grandmother into an exhibition space and virtual gallery accessible around the globe. In the adjacent dwelling, I will create a residency space and studio for visionary African womxn artists.