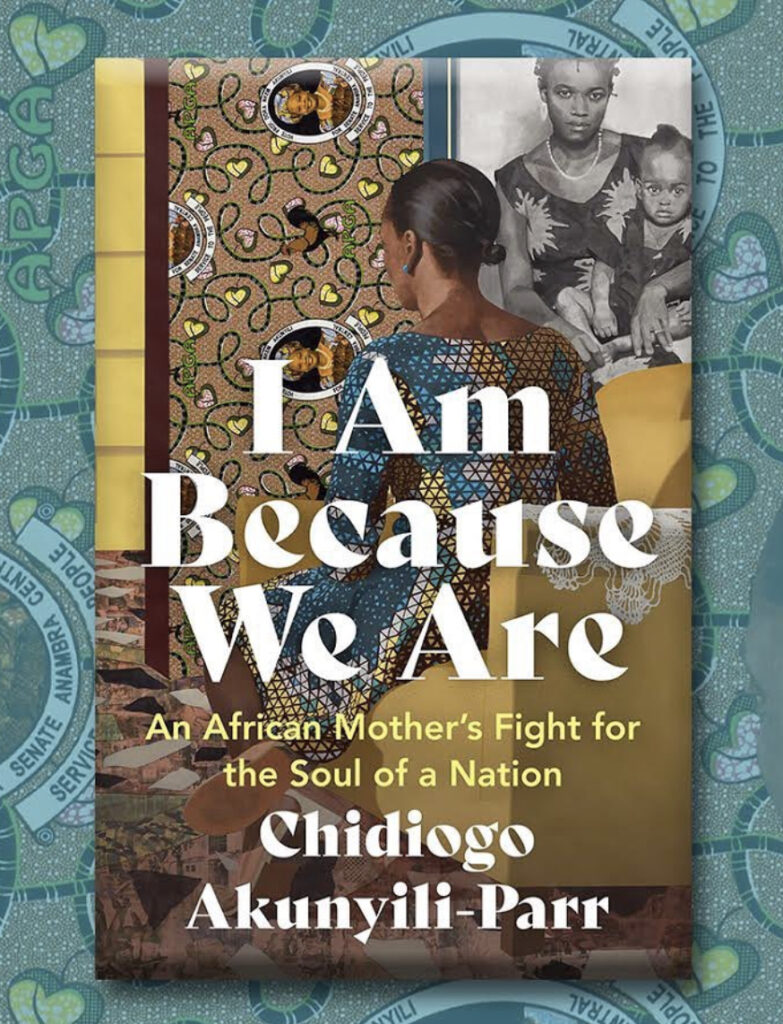 CHIDIOGO AKUNYILI-PARR is a Nigerian Canadian writer, consultant, and speaker based in Toronto and the founder of She ROARs, a community committed to unleashing the full potential of women of colour around the world. Her work is focused on impacting global narrative with the power of stories founded on the humanist African philosophy of Ubuntu, which celebrates our shared humanity. She is also a World Economic Forum Global Leadership Fellow. I Am Because We Are is her first book.
Conversation hosted by Chimee Adioha
I am happy to be speaking to you again, the second time. I remember you reading excerpts of the book to me and others at the Quarantine Book Chat in the early days of the pandemic in 2020. How time flies, and how we are here again- finally getting this book out to the world. Congratulations! My first question is going to be: what inspired you to even begin this memoir? Amongst all your siblings. When did you start the first page ever?
Thank you so much Chimee, it is wonderful to share in this journey. This memoir is the story of Dora Akunyili, who also happens to be my mother. One of her last words in public shared that "A society grows great when old men and women plant trees whose shade they know they shall never sit in." This book is like sitting under the shade of the tree she planted, listening to 'tales by the moonlight.'
Writing it was inspired by an invitation from my mother. A little over a year after her funeral, on a cold January night, I was sitting on my couch in my apartment in Geneva, journaling, when I heard a familiar yet unexpected voice. It whispered to me a new idea, fully formed — to write her story. The rest has been an unraveling journey of saying yes. It has been wonderful to lean on the support of my entire family, and this book serves as some sort of a collective memory of the life of the woman that was.

Ubuntu is a community call, an alarm to acknowledge togetherness & humanity. I understand these are central to the writing of the memoir. How did you meet Ubuntu? Or how did this big African philosophy meet you?
I met Ubuntu in 2012. I was agonizing over the anchor of a graduation speech I was to hold. She came as if she had always been there, which is how I recognise truism. It felt right. I spoke that year of Ubuntu and the power of this one word that holds infinite wisdom. The invitation was that it guide us as idealistic graduating students from a masters program that at the core was to support global development. Ubuntu would become a guiding philosophy of mine. In writing my mother's story, it quickly was apparent to me that the same thread guided her values and her life. Ubuntu – I am because you are, you are because we are – captures the interconnectedness of all beings. To care for one another is to be in the full strength of who we are.
Ubuntu has gone from a reminder to an urgency. Now more than ever, there is a need to reject the notion of otherness that separates us from one another. We are invited to reclaim the ties that bind as they are stronger than the forces that would divide.

Your mother, Dora Akunyili- is a national treasure & a definition of what bravery entails. This comes as rare these days. So, writing this book will come as the best thing to do for posterity, and while fighting corruption & misogyny in Nigeria, what were the major things you wanted to call out in this memoir? The energy of this book is not so much a calling out as it is a calling in. We are reclaiming the truth that we are better than the sum of our limitations. It is reclaiming that we are a good people and a great nation, and her story is a guide to show us the way back to this truth.

"A woman in a man's world, she was elected and became a cabinet minister, but she had to deal with political maneuverings, death threats, and an assassination attempt for defending the voiceless. She suffered for it, as did her marriage and six children." The above quote from your publisher's announcement indicates both boldness and pain, which your mother owned. How did this boldness & pain motivate you to take this writing step? What was behind the exigencies before jumping on the first page of this memoir? I agonized over the first words. How does one begin such a story? Ultimately I learned that surrendering and trusting in the words that wanted to come through was key. This and that the beauty of writing is that there is space to rework/rethink etc. especially once the book finds its identity. But to find the identity I had to simply write, and a lot of those first words I hand wrote in my journal and various scraps of paper whenever I felt the inspiration. It is my way of connecting to what needs to come through without any barriers.
On the subject of pain and book beginnings, incidentally, the first pages is a prologue reflecting on my own pain following the loss of a pregnancy and how it allowed for me to fully immerse myself in unpacking my mother's. Each step has allowed an unwrapping of her — the girl, the daughter, the dreamer, the wife, mother, warrior — her motivations, her struggles, and celebrations.
While the world saw Dora Akunyili at the peak of her strength — I saw the complexity that was hidden from sight. This is the story of her multiplicity and what shaped her to the woman she was. This is the coming together of her parts.

How long did it take you to write the memoir? The idea was born in January of 2017, and I started interviewing people, and gathering materials later that year. The first words were written in January of 2018.

Were you reading other books or memoirs while writing? Any materials you drew inspiration from?
I struggled with identifying memoirs of children that had written about their parents which was ultimately what I was doing. I recall being excited about Small Fry and how Lisa Brennan-Jobs would handle reflecting on her larger than life father.

Who read the first draft? What was your writing process like? When are your best times to write? Where do you write better?
This book has been the true embodiment of the wisdom of going far by going together. I believe the first readers were a mix of my older brother and my brothers-in-law, one from my husband's side and the other being my sister's husband. I think of my process as akin to building up the human body – first the bones: structure and foundation; then the organs: key messages of the book; and then comes the muscles: providing nuance and complexity and tying things together etc. At each juncture, I leaned on some wonderful humans who gave me the gift of their time, their eyes and love.
I write best when I have a chunk of uninterrupted time, when and where I don't need to be anywhere else or do anything, and can simply look forward to spending that time with the book. Getting into that flow for me was key. In some ways, it is why I knew I could not have kept my full time job and write at the same time.
Something I must mention though is that there is pure writing, and there is editing, editing i.e. re-reading and rethinking, I tended to do anything I could find the time.
What were the writing challenges that appeared the periods you were working on this memoir? Paused writing for months? Took a break?
There was always the challenge of continuously coming back to trusting in the story, in the power of telling our stories and in the process of dedicating myself to this.
Do you have favorite authors? Would you write a next book?
I loved writing this book, and trust that I will always say yes to whatever is wanting to be birthed through me. I love reading the works of those who write from the heart as it inspired me to lean more into this desire.

Thank you so much Chidiogo; it's always a good thing talking to you about this book. Wishing you udo, ihunanya and more life! Thank you! Incidentally the last words of the book speak to ihunanya.
With love and deep gratitude for such heartfelt and thoughtful question! Truly. I cannot wait for you to read the book and to know what you think.