Born in Imo State, Nigeria, contemporary Nigerian artist Tonia Nneji comes from a long line of traditional carvers and masquerade carriers. Following the family tradition of artistry, she graduated with a B.A (Hons) in Visual Arts from the University of Lagos, Nigeria in 2016. Known for her use of bold colours and intricate patterns, Nneji's work explores the relationship between trauma and the female body. Drawing from her experience in dealing with personal health issues, she confronts a culture of suppression and silence on issues around women's physical and mental health, body autonomy and sexual harassment in a bid to create safe spaces where conversations could be held freely.
When did art meet you?
I'll say art met me before i was born. The Reason is, my paternal forebears, including my father were traditional carvers and masquerade carriers. Growing up, there were no question to be asked. Ipt felt automatic, everyone knew i was going to do art.
Did you read books when you were a kid?
I read lots and lots of books. I even got into trouble by reading books like harlequin romance, mills and boons, etc. at one point, they filled up to sacks of garri. This was in secondary school.
What kind of books do you read now?
I read more of modern literatures written by women and i sometimes re read books i have read in the past.
What are the activities that you engage in if you are not creating?
Reading. It is the only way I calm my nerves asides painting.
Have you in any way gathered inspiration from a book? The kind of inspiration that could influence your art?
Yes. A few times.
When last did you read?
I currently have a book beside me. I only stopped to answer your questions.
Where was the last bookstore you visited?
Because of my health, the last book store I visited was on Instagram. Roving heights.
Who is your favorite author?
Authors you mean…lol. Buchi Emecheta and Chimamanda Ngozi Adichie.
Would you choose to be a writer if you weren't an artist?
Yes yes….but i also see writing as art.
Which book is the most expensive you have bought?
A book on painting 'The impressionists in context'. I bought it for a few ten thousands.
What has been the response from people regarding your art?
It has been great. I have an impressive collector base. I'm grateful for everyone's support
Do you appreciate the art industry in Nigeria?
Yes, I appreciate it a lot. I see potentials, but it still needs lots and lots of work to develop.
How would you feel when your art becomes cover design of books?
The joy will be indescribable. Seeing them in magazine prints already gives me inestimable happiness. Seeing them as book covers? Hmmmmm……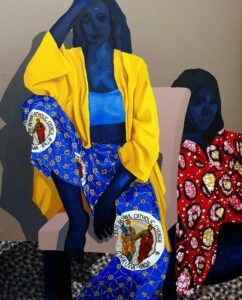 Tonia Nneji's artwork