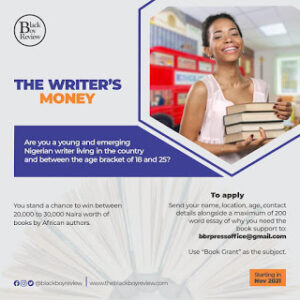 Books, literary meetings and magazines are essential to the creative development of a writer. Over the years, we have observed that lack of finance affects the young and emerging Nigerian writer's access to these literary essentials.
At Black Boy Review, we are aware of the consummate fire of artistic connection which books, magazines and literary events offer to the writer, and we are committed to providing that experience for the young and emerging Nigerian writer, whose literary potentials have been inhibited by lack of finance. We are therefore excited to announce our new project: The Writers' Money.
This project is a fund in vouchers for young and emerging Nigerian writers, living in the country, who are between the age bracket of 18 and 25. The funding ranges between N20,000 to N30,000 worth of books by African authors disbursed to successful applicants twice in a year, starting November 2021.
Applicant must be a writer, who has published at least a poem or a short story in an online magazine or blog. Successful applicants must be be willing to submit a book review of one of the books they will acquire with the vouchers. The review will be published and promoted by Black Boy Review.
Black Boy Review is also able to make cash transfers to young people who want to attend literary events and meetings in their communities. The cash transfers will cater mostly for their transport fares to the particular literary event, which will be open to the public.
To apply for The Writer's Money, send your name, location, age, and contact details, along side a maximum of 200 words essay of why you need the book support in 200 words, to bbrpressoffice@gmail.com – using "Book Grant" as the email subject. Deadline for submissions is on 30th September each year.
Ese Emmanuel or Chimee Adioha will respond to you through bbrpressoffice@gmail.com
Best wishes.