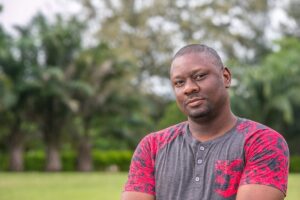 Othuke is a writer, poet and dramatist. A graduate of Computer Science from the University of Benin, Nigeria, he writes, dredging from experiences and influences from the land of his birth.
To his name is Odufa, a play that got him shortlisted for the Wole Soyinka prize for Literature. Odufa: A Lover's Tale, his first novel, also got shortlisted for the Association of Nigerian Author's Prize for Prose Fiction and the Grand Prix of Literary Associations in Cameroun. He is the author of the acclaimed novel, A Conspiracy of Ravens. Aviara: Who Will Remember You is his third and latest novel.
I have just finished reading AVIARA and all I could feel was going to visit AVIARA, at least to feel more of the characters that came from there. That's apart. How long did it take you to write AVIARA?
Aviara took 4 years of writing. I actually conceived the idea and began writing in late 2015.
Was there a reason you had two books in one ? Instead of making 2 different books?
I honestly have no idea where this '2 books in one' is coming from, cos I have heard this argument from someone else. If you have read Odufa, you'll see the story is divided into three parts. Most stories are broken down into parts or 'books' or whatever annotation the writer fancies. So this question is akin to asking me why I wrote three books in one in the novel ODUFA, or why the many authors who break their stories into parts, wrote several books in one book. Aviara is a novel broken into two parts, so simply replace BOOK 1 and BOOK 2, with Part One and Part Two if that helps. Aviara is also the sequel to my first novel, Odufa.
Have your experiences influenced writing of AVIARA?
In 2014 I was diagnosed with End Stage Renal Failure. It was one of the darkest moments of my life. For me and my family, it was the first time we were learning about the disease. I also realized a lot of Nigerians had the disease, in fact according the WHO reports, over 22 million Nigerians are currently suffering from Chronic Kidney Failure. And no one is talking about this. Aviara was inspired by my journey through ill health and fuelled to life by my desire to make this a conversation.
What is your writing process like? Where is your best place to write?
I only start working on a new writing project when I am completely consumed by it, excited by the very idea to the point of restlessness. I have a study where I write. I retreat there and work mostly through the early hours of the morning and the late evenings.
When last did you attend a party or danced?
A party was five months ago I guess. As for dancing, I'm a great arm-chair dancer, if we can call that dancing too. I always arm-chair dance when I'm driving.
What has been the reactions from readers who have read AVIARA? What are people saying?
As you are aware, the book hasn't been released yet for purchase, at least not until the 26th of August 2020. However, the few people who have read the ARCs have loved it so far. Great, positive reviews.
Are you working on anything recently?
Yes I am. There's a new manuscript in the works.
Are there special notes or symbolism or inspiration towards the cover design ? Any ideas you can share about the cover design?
The cover for Aviara was our very first attempt at trying to capture the story or a part of the story in a pictorial design: The characters journey, the despair, faith, life, death, conviction, disease, belief, hope… It's all there.
How would you assess the literature industry in Nigeria?
We have more publishing platforms, writers, and even more readers now, people who are invested in African Literature. This is a good thing. As an industry, we are rising… and the possibilities of what could be are endless. I am here for it.
Do you have writers you have looked up to or writers you feel you are sounding like, each time you read them a lot?
There are a number of writers whose craft I greatly admire, but someone whose style I think mine mimics, definitely not.