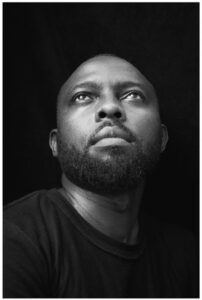 Photo by Dirk Skiba
Book Cover Design Concept
Cover design was by visual artist Fred Martins, the design interprets the book title. It's a floating balloon of a head, pulling of from the rest of the body.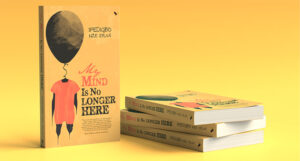 This conversation is really coming late, but it's always better late than never. Reading MY MIND IS NO LONGER HERE was a form of reading about men, reading through, from the eyes of men and what men really feel they need. We would like to know your intentions towards writing a book that wanted to talk about men and the kind of lives that are mostly associated with men.
Yes, indeed this conversation has been a long time coming. I am glad we are finally able to do this and I must thank you for the time and the platform.
You've started off with a very interesting question. I will like to start by stating from the outset that the first inspiration to write this book was a newspaper headline. Sometime circa 2011 I read a story in the metro section of one of Nigeria's top dailies about a so-called travel agency which had swindled a lot of people of their money, promising to help them migrate to Canada. At that time too, issues of human trafficking was also rife as it still is today. I thought to interrogate that desperation to leave at all cost, and the people who had made an industry out of that desperation.
Now, when you think human trafficking, you are likely to immediately think of the female gender. The prostitution rings across Europe fed by trafficked girls from Nigeria easily comes to mind. Chika Unigwe's On Black Sisters Street which told that story very well. But Boys are also trafficked for many other reasons. And indeed, in the whole desperation to leave and make it anywhere else at all cost community, men top the charts. So, I decided to make my work about men, to tell their own story and to explore it from the lives of four characters from different backgrounds whose interest converge on this project of leaving.
Did you in any way had to infuse your life experiences into the story generally. Was there a character amongst the four men that you felt was too close to your own reality.
The short answer will be no. None of the characters reflects my own lived experience personally. However, I infused the stories of other real people who I either knew or heard about. Not in an autobiographical way though. More like bits and pieces of it. I like most people who grew up in these parts especially from low to middle income backgrounds under the influence of IBB's stifling structural adjustment programme, know someone, a relative, friend, school mate or someone on their street who has left through some kind of runs, so it's a very familiar experience.
3. How long did it take you to write MY MIND IS NO LONGER HERE ?
The initial draft for My Mind Is No Longer Here was written in a month. I participated in the NaNoWriMo challenge that year and by the end of the month I had managed to knockout a draft of slightly over 50,000 words. But it took another four years to be published. In between that period, was the many rounds of editing and rewriting and the discussions with my publisher. I can tell you for free that the finished book is way different from that initial manuscript. But like I always like to tell young people who tell me they like to write, you cannot edit a blank page. Write, then start re-writing.
4. The thematic structures that you explored in the book to me, was an important issue, especially the fact that more young people every day are rather interested in leaving than in staying. Even in a year like 2020, there is this excellent relevance that the theme retains. Do you think as this issue is huge, there is less representation in literature?
Frankly, we've got a problem. Young Nigerians are leaving in numbers that portends grave danger for the future of this country. But the people in power do not seem to be bothered about it. If they've noticed at all, they are not bothered to respond in any way. As a socio-economic concern, this trend has enjoyed very extensive journalistic coverage both by local and international media but not so much in literature. Immigrant stories abound in literature I must observe, but it's often more around the experiences after the crossover has happened, not so much the process of crossing or as in the case of MMINLH, a crossing that didn't quite happen. Perhaps I can name Helon Habila's 'Travellers', which told that story in part but besides that I am not sure I have too many other examples. Certainly, there's need and room to tell this story a lot more as I do not feel we have explored that topic enough given how contemporary an issue it is.
5. What were your greatest intentions for writing this book?
To tell a story that highlights something happening around me. To hopefully add to the conversation about something that enjoys such prominence in social commentary, using the platform of literature.
6. How was the publishing process for you entirely?
Oh well, given the general experience with publishing in Nigeria, I can say I was lucky in the sense that I didn't have to shop this around for a long time to find a publisher. I submitted it to my publisher during a submission window and they sent a favourable reply and we took it from there. I must mention that it had been published a few months earlier in only digital form by a UK publisher of African literature, Bahati Books which is not rested. The people at Parresia Publishers were great to work with. I worked with an amazing editor who has now become a friend. The cover design was a nice interpretation and I approved it without any hesitation when it was first presented to me and the print came out well. No doubt the system, and by this, I mean publishing in these parts in general, has its many inadequacies, many of which are systemic. So, yes the process could be a lot better.
7. Were there particular books that inspired MY IND IS NO LONGER HERE ?
Frankly, I can not say any one book inspired MMINLH. Perhaps all the many books I had read leading up to the time I wrote it must have inspired or influenced me, albeit subconsciously. But I cant put it to any book in particular.
8. Who would you mention as your best authors, or authors you strongly look up to?
I will take this to mean, both living or dead. Achebe is a respected ancestor for me as he is for many in these parts. There is also Chukwuemeka Ike who recently passed, easily my favourite African writer of all time. I had the pleasure of writing his obituary for The Lagos Review. The brilliant Pius Adesanmi who passed in the unfortunate Ethiopian air crash last year is another who's essays are a cherished collection for me. There is also the late Binyavanga Wainana, who had a very large heart. Of course, I must mention the world famous Chimamanda Adiche who taught me in her writing workshop and who is a big influence. I also look up to the likes of Helon Habila, NoViolet Bulawayo, Obioma Chigozie, Tsitsi Dangarembga, the Ngugi's and many others. It's a long list.
9. Are you writing anything new?
Yes, actually or maybe I should say its written already and the other processes towards turning it into a book are ongoing. So hopefully sometime soon you will be seeing an announcement. LOL.
10. What are you reading currently? And how are you beating the pandemic?
I have just finished reading A Broken People's Playlist by Chimeka Garricks. The good people at Masobe Books were kind to gift me a copy. I have just picked up its co-traveler if you like, The Mechanics of Yenagoa by Michael Afenfia.
The pandemic has evolved, from the lockdown phase to this near normalizing phase. In all of it, I have been largely indoors, working from home. Somehow that bit of my life has gotten more intense during this period. But otherwise, I catch up on stuff on social media, there was a time IG live was ubiquitous. I also watch a lot of tv, and I read when I can find the time.
About Nze Sylva Ifedigbo
Sylva Nze Ifedigbo writes fiction, creative non-fiction and socio-political commentaries. He has published a novel My Mind Is No Longer Here (2018), a collection of stories The Funeral Did Not End (2012) and a novella Whispering Aloud (2007). His short stories have appeared in various publications including Prick of the Spindle, African Writer, Maple Tree Literary Supplement, Saraba, Kalahari Review, True Africa, AFREADA and Thrice Fiction Magazine. He lives in Lagos, Nigeria.