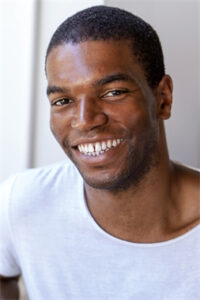 Okechukwu Nzelu is a writer and teacher. He was born in Manchester in 1988, read English at Girton College, Cambridge and completed the Teach First programme. His work has been published in Agenda, PN Review, E-magazine and The Literateur and his essay 'Troubles with God' will be published in the anthology Safe: On Black British Men Reclaiming Space (Trapeze, 2019). In 2015 he was the recipient of a New Writing North Award for The Private Joys of Nnenna Maloney, which is his debut novel.
Book cover art by Rachelle Baker
Pages : 320
Paper color : White
Water resisting cover : No
TPJONM – The Private Joys of Nnenna Maloney
Writing a comic book is one thing; and having controversial issues as race, gender and identity as thematic structures of the book is another thing. How were you able to bounce on this task?
Thanks for picking up on this: it's one of the things I'm most proud of about the book. For as long as I've wanted to write a book, I've wanted to write a book that was enjoyable to read: I believe really strongly in the power of literature to entertain, and I think this is compatible with its 'deeper' potential to challenge, to console and to start dialogues. I love comedy, and I especially love farce: I acted in a couple of these types of comedies at university and they've stayed with me: farce has tremendous potential to involve all sorts of people who are seemingly unconnected, and to create really funny comedy in the process – and it also has this wonderful ability to give way to something quieter and perhaps more profound.
Joining comedy with heavy, often dark themes took time and thought, and a fair bit of trial and error: I more or less stumbled on what became my style of comedy for the novel, while I was writing one of the many redrafts of the book. Once I'd found my style of comedy by accident, it was just a case of going through the writing and doing it on purpose in the scenes where it made sense to do so, particularly the opening.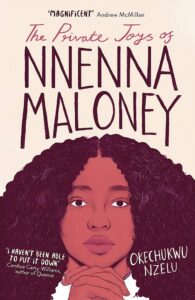 Are there personal connections and experiences that motivated your writing of TPJONM?
Yes and no. Each of the characters is inspired by experiences I've had or seen or read about: Nnenna, for example, lives with her single mum, which was an experience I had after my dad left when I was about 14. My experience of this helped inform both the small details (like who does the cooking), and the bigger things, like how quickly you have to grow up and become self-reliant. I also think having only one adult in the household, who has to be the breadwinner, as well as all the other things required of an adult, can really have an impact on the dynamic between parent and child. Similarly, like Jonathan, I've encountered a lot of racism in the gay community, and there is a lot of research about the impact this can have on your mental health.
But at the same time, I wanted to take the opportunity to write empathetically about things that were beyond my experience, such as being female, or having a white parent, or not speaking any Igbo, and so on. Fortunately, Jonathan's experience does not mirror mine, but by researching, listening and empathising, I was able to write his story.
How would you define your writing process for TPJONM. How long did it take in all?
Writing this book was a long and difficult process. It took about eight years, from start to finish. During this time I took about a year off while I was training as a high school teacher (I was busier than I've ever been in my life), and a few months off to give myself perspective between redrafts, but for the rest of the time I was writing more or less every day, sometimes twice a day. I learned a lot about writing a novel in those eight years; I'm still learning now and I hope to carry on learning for a long time to come.
I don't really have a single process for writing; I just do whatever works for me at the time. In general, though, there are few things I find helpful: especially when I'm just starting to write something, I try to make myself as open to inspiration as possible, no matter the source: it could be a 90s TV show or a poem about grief, or a joke I overheard, or a pre-Raphaelite painting. I find it important not to be dismissive or judgemental of art forms when I'm looking for ideas: once I've got an idea, I can hone it down and modify it. Then, I like to give myself plenty of time for ideas to stew and percolate, too: it's easy to let yourself procrastinate as a writer, but it's also important for me to take time to think about things before I write.
As for the actual writing, I often find it helpful to read something new and exciting while I'm writing: not so much to get ideas from it, but to get energy and a sense of comradeship from the fact that someone else worked away at their writing and managed to turn it into a book. At first I'll read a bit and then write a bit, and then soon I'll find myself putting down the book I was reading and getting caught up in my own writing. It feels a bit like a plane taking off.
What was the cliché difficulty in finding a publisher?
I mostly submitted my work to agents, part of whose job it is to find you a publisher. I think I got something like 10-15 rejections. A couple of them gave me brief written feedback, and some of that was actually very kind and helpful, and some of it was less encouraging, but most rejections are just a template email, which isn't great but it's just part of the process. Sadly, as is becoming more and more apparent, publishing in the UK has a big racism problem: it's harder for black writers to find people who will understand and champion our work. I feel very lucky to have that in my publisher and agent: my publisher, Sharmaine Lovegrove, understood what I was trying to do right away, and her guidance and drive have been invaluable.
In 2015, I received a Northern Writers' Award from New Writing North, an organisation which helps writers in the North of England, where I live. They gave me encouragement and advice (and some money, which was especially welcome as I was on a trainee teacher's salary at the time) and they introduced me to my agent and publisher. I owe a lot to NWN.
What has been the reception for TPJONM so far?
It's been wonderful. To be shortlisted for the Desmond Elliott Prize, win a Betty Trask Award, longlisted for the Polari Prize… it's like a dream come true. It's hard to remember what I imagined the reception of the book would be, but this goes beyond anything I could have assumed or expected. And then on top of that, to have people contact me on social media to say that a particular character or experience resonated with them was just amazing. A few people have said it was surprising that the book was written by a man, which is a huge compliment when you consider the book's subject matter! I really wanted the book to be, among other things, an extended act of empathy.
Where and when is your best place to write?
I wish I could say I wake up early every morning and write for hours before I set off for work, but that would be a gross deception. I tend to write in the evenings after I've finished my teaching, and I tend to write much more during the school holidays. Even on my days off, I like having a whole day to think about things and let ideas stew. But the honest truth is that it's a difficult balance: writing and teaching are both demanding, exhausting jobs. Up until recently I was teaching full time, and I'm still not quite sure how I managed that.
The great thing about the school holidays, of course, is that it means having a lot of time to myself, and I use that time to just sit on my sofa and write until I'm too tired to write anymore. But all that time spent alone (most of my friends aren't teachers) can also be a drawback, so I like to get out of the house every day: I put on an audio book and go to a cafe. By the time I've arrived, I feel like I'm immersed in prose, and it helps me generate ideas and confidence. Writing in a cafe is such a cliche, I know, but I find it so helpful. I like a change of scene, and cafes are also helpful because the snippets of conversation I overhear remind me to stay true to the rhythms of real dialogue.
Writing anything new?
I signed a contract for two books, and I'm currently editing my second, which will be out in Spring/Summer 2022. It's still a work in progress so I can't say too much about it, yet, but it feels very exciting. Like The Private Joys of Nnenna Maloney, it's set in Manchester, but this book focuses more closely on Nigerian and Nigerian-British characters. It's a new set of characters, this time, but some of the themes are the same: family, redemption, love. I don't think I'll ever get tired of writing about those things.