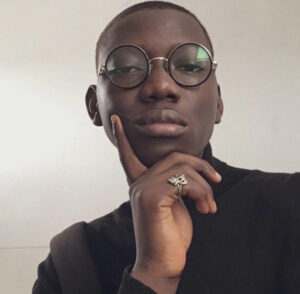 'Jesutomisin Ipinmoye is a writer. Or an engineer. The answer varies depending on whom you ask. He's excited to call himself an author, but he spends very little of his time actually writing and more time watching youtube videos of authors and people who talk about books. Speaking of books, his debut is a collection of short stories he spent three years writing. He's incredibly proud of them and so you can be sure he'll bring them up in every conversation until he can be bothered to start writing something else. He is surrounded by several close friends and family who tell him he's the shit constantly. Should you have any problems with the quality of his work, take it up with them. They're the source of his self-confidence, and he's grateful for them.
He's currently in Abeokuta, Nigeria, plotting what else to write about.'
See our interview with Jesutomisin below:
Hi Jesutomisin, it's quite a huge blessing to be talking to you. I have just finished reading WINDOWS, and I must say, this is one of the best things I have read this year. How long did it take you to get all this work done?
hi! thank you so much for taking the time. i am immensely grateful. It is? i can't say how much that means to me! it's really such a pleasure to know that at the very least, someone appreciates your art! how long did it all take? well putting the novel together, working with the concept, and just getting the book out there the best part of seven months if i remember correctly.
There is a consistent flow and motivation in WINDOWS that requires the use of informal language and free sentences. Can you tell me more about it?
i wish death to formality. i think we're living in times where we get to watch formality decay. like we currently live in a time where handheld footage of incidents, mundane in-the-moment snapshots of the excess of life, are more important, more evocative than a formal news camera crew. this 'handheld' effect means we all now have remarkable access to the narrative of life. and there's a certain honesty in that access, in being able to portray human experiences informally as anyone else would tell it.
I also particularly was interested in the fact that I could read stories and poetry in one book. What is the motivation behind this strategy
last year october, i joined this writing workshop at school, where I got to meet two poets. i, myself, had never written poetry until that point. there were these two pieces in particular that just did so much with form and style, that it immediately started training myself to write a half-assed form of poetry. appropriating poetry into prose almost. then I read Toffee by Sarah Crossan and I decided that this form needed to make it into my book.
I understand your audience would obviously be a huge crowd of young people; of course, I think young people need to read WINDOWS; an honest writing, Virgin and kind, as is with most debuts. What audience do you have in mind specifically?
a funny thing is I'm still not sure. i've never really excelled at marketing or dividing people into neat demographics. i do suspect a lot of the stories will resonate better with younger people because that's the lens I wrote it from – the observations of young, nigerian man with many portals to peer from, though i really want everyone to read it.
As is usual with creatives, do you write with inspirations? Do you have writer's blocks? How do you deal with them?
i see a lot of writers often recommend writing through a block. i'm remarkably lazy and prone to giving up so this technique has never worked for me. however, i am inspired often. i'm not sure what from. there's something about existence and its tumultuous lordship over us that begs to be written about. as a result, i often catch ideas and single lines floating around in my head. sometimes i write them down for later. sometimes i let them pick up a little more weight, condense into thicker clouds so it's enough to rain on a page. if i start writing and it isn't working out, or i feel creatively constipated, i stop writing altogether. and do something else. then i come back to it when i feel like it. this start and stop technique is fascinating to me because i could end up going months without writing, then one day sit and write 5000 words in a go.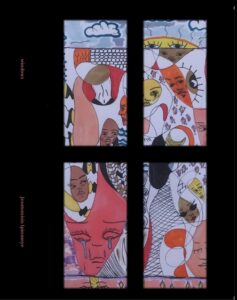 As a young writer, trying in Nigeria; how has the journey been for you? Any struggles you would like to share?
nigeria is an extremely curious place to be a writer. that's one thing I've learned. something i feel very strongly about is the need for a few established agent networks to handle the relationship between nigerian youths interested in writing, and authors. in all, i feel as though it's still too early for me to share any complete thoughts, but what i will say is that I'm extremely grateful for the nigerian bookstagram community. they are an amazing collection of people, and if i hadn't discovered the community, i definitely would have been worse off on my writing journey now.
There is also a consistent intention that dictates your need to deconstruct all forms of rules in your writing; starting in small letters, mixing poetry and prose, dividing your work in parts. Is this a style you would like to continue with whatever you will be working on in the future?
like i said earlier, i wish death to formality and his ugly sister traditionalism. i don't think there is any one-way a story can be told, and i find it liberating to deconstruct certain rules for the sake of style, my personal aesthetic, or narrative. i almost exclusively produce all my text in all small letters (it was a pain to edit and have to re-capitalize most of the main text), so this departure is on i've been practicing and adapting for a long time now. it is something i definitely want to move forward with and develop more. i hope to eventually find new ways to make text serve even more succinct purposes in storytelling.
Who are or who have been your favorite writers?
my favorite writer is, without a doubt, Akwaeke Emezi. their writing was part of what resurrected my belief in surrealism as a storytelling tool in fiction (a belief that was created when i first read Ben Okri's The Famished Road). Akwaeke's Freshwater inspired me in ways i cannot begin to describe.
How long did you write WINDOWS?
just shy of three years. i finished the first story in windows in July 2017, so i often beg that as the day i officially started writing the book.
What are you working on now? And reading now?
right now, i'm either going to rest or start working on something to hound publishers with. i haven't made up my mind yet. as for what i'm reading, i just finished Chimeka Garricks's brilliant collection A Broken People's Playlist. i've just picked up A Small Silence by Jumoke Verissimo, but i'm yet to really start.
Thank you
thank you so so so much for this! it was fun, and i am so grateful!